Common Music Promotion Mistakes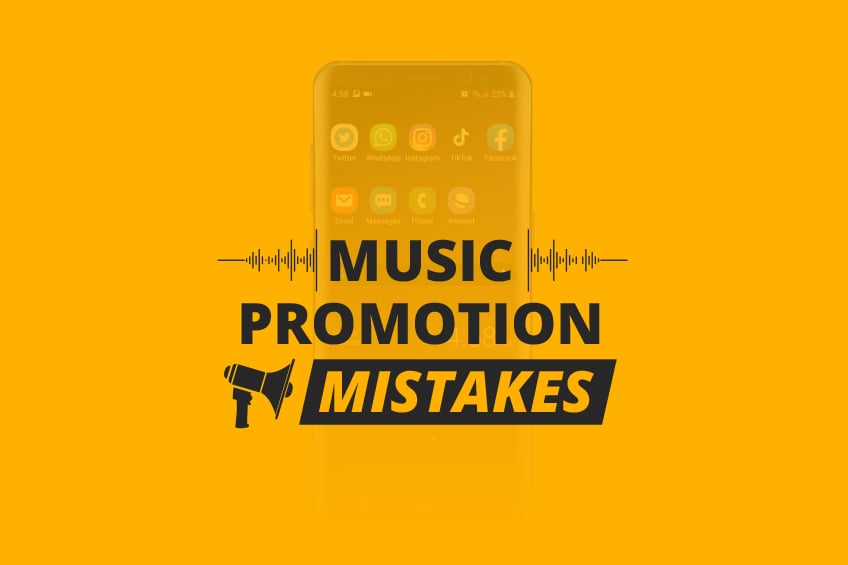 Promoting your music online can be difficult and costly, especially if your approach is wrong! Here are a few common social media mistakes artists and musicians make and some tips you can implement TODAY to help grow your fanbase online:
Mistake #1: Your new song is about to be released, so you repeatedly post the cover art with a caption saying "Coming soon". This is so common that a lot of artists think of it as the norm. In reality, it's very likely that you're losing fans because of this. Your social media profile is not a billboard. Posts like that are a turnoff and they aren't interactive. Instead, post content that your fans can engage with. Try posting a selfie video with a snippet of the song and ask your fans what they think about it. If you're going to show the fans the artwork, post a poll with two versions of the artwork BEFORE you select one and have your fans help you choose. They'll feel more connected to the song when it actually gets released. 
Mistake #2: Not posting a piece of content because it isn't "professional quality". This is a common blunder many artists make, not realising that their fans want to see the unfiltered, unpolished version of them. This doesn't mean you shouldn't post "studio quality" photos and videos, but when building your following, you need to mix in the occasional "amateur quality" content. These posts tend to feel more authentic and can also serve as a benchmark for your growth. 
Mistake #3: Interacting with fans on social media ONLY when promoting your new project. Your fans don't want to be sold stuff all the time. They want to feel like part of a special club/family. They want to know that you care about them. Treat them how you treat the other people you truly care about. You don't only call your parents/siblings when you want them to buy something, do you? We hope not! 
Reach out to your fans and have actual conversations with them. Learn about who they are, where they're from, and what's going on with them. Regularly treat them with opportunities to win free merchandise, hear unreleased music, see exclusive behind the scenes footage, etc. Keep your fans engaged at all times, and they'll love you more for it. The more your fans love you is the more they'll tune in to your music and other content and share it with the people in their circles. 
Use these tips consistently, and watch your fanbase grow!
Want more in-depth help with your music promotion? Click Here